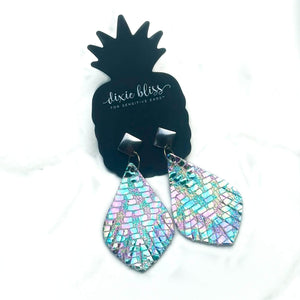 Shannon is truly one-of-a-kind and features:
*Stainless Steel Square Cassidy post.
*Teardrop fringe measuring 3" from the top of the post.
*Chrome Mermaid Chevron Genuine Leather.
*Back Side of the leather is light grey suede.
*Great for sensitive ears!
*Made in the USA!
**Always wear rubber backs with dangle-style earrings!